A rapid kickstart to tackle your DEI challenges
Diversity, equity, and inclusion (DEI) is on every organisation's agenda; across every sector and every sized organisation. And it extends far beyond hiring diverse teams. That's the easy bit!  DEI penetrates every corner of your organisation from culture to policies to organisation design to performance. Knowing where to start isn't always clear. That's where DEIRAD come in...
We take a holistic look at your organisation to identify what you're doing well and where there's room for improvement. Very often there is a mismatch in what a company believes it's doing well and the lived experience of their employees, which is why it's crucial to have an independent third party assess this.
The aim of the audit is to provide you with a clear and actionable roadmap to address your DEI challenges.
Get an overview of your organisation fast
Our audit can be delivered in a matter of days. Whilst there are no quick fixes to addressing DEI, our audit is designed to be delivered quickly so that you have a clear plan of action detailing the changes you can make that will have immediate impact, as well as the more complex longer term changes.
Results provide you with an actionable plan
Identifying where there are challenges is the first step. Knowing how to tackle them can be overwhelming. Our experts provide a roadmap of what changes are needed and clear directions on what needs to be done to make the changes.
Get unbias and objective insights
More often than not, what an organisation believes is their position is rarely the reality. Having an independent party that can collect data and assess without bias is crucial if organisations are to truly embed DEI into their DNA. It also gives employees the confidence to speak openly and honestly about their experience without fear of repercussions.
Confidence that results are backed by market-leading expertise
Our audit has been built using the latest industry benchmarking and frameworks combined with the expertise of our consultants. These ingredients are a powerful solution to get under the skin of an organisation, diagnose with accuracy and provide solutions that will work in the specific context of each organisation.
Ability to measure and track progress
Beyond diversity hiring - which only take up a small part of DEI - measuring genuine impact can be a challenge for business. Our audit has been designed to measure tangible impact and can be run annually to monitor and report on progress. It also allows you to benchmark against other organisations.
"NSCG provides great advice on all thing DEI. I simply can't recommend them enough."

Chief People Officer
ICB
"NSCG has provided fantastic support and challenge working within the Sussex Health and Care system over the past year. There have been varied roles which have required their support from the development of our first system Race Equality Strategy and Executive Team development to the pilot of a 360 degree feedback process for our NHS Sussex Board members. Each and every time we have required their support we have received careful, considered thorough advice and challenge which has helped us to develop as an organisation and as a system."

Mark Smith, Chief People Officer
NHS Sussex
A holistic approach
One of the biggest mistakes we see organisations make when it comes to DEI is not appreciating its complexity. Many make one or two siloed changes or initiatives and think that they've completed the DEI puzzle.
In reality, a complex spiderweb of interlinked and overlapping factors should be considered when addressing DEI in your organisation. Built on market-leading frameworks, our audit considers the full picture to ensure meaningful and lasting impact can be made.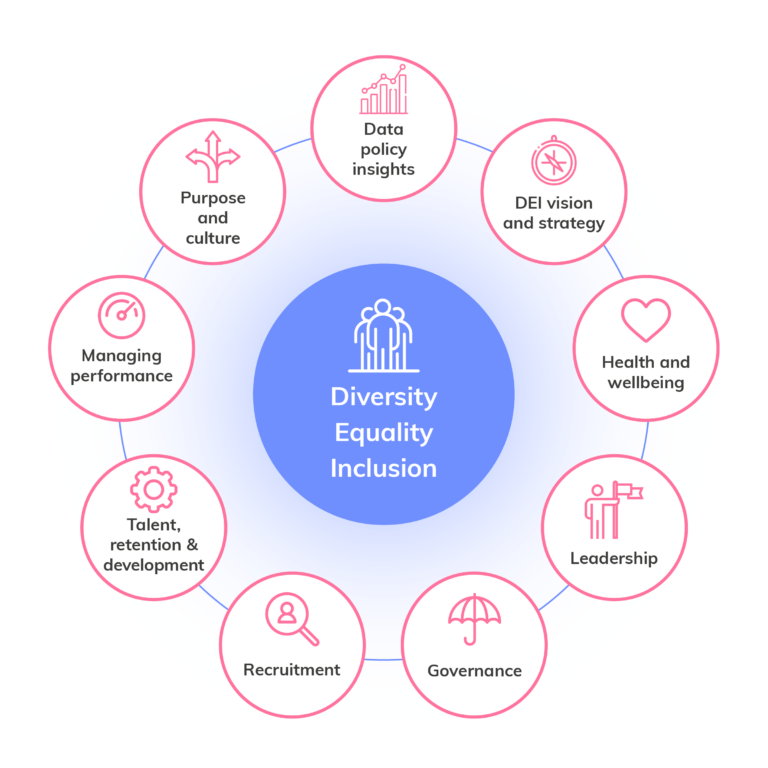 Latest insights