Powering organisation and people performance
Organisations facing change and disruption is inevitable. And needed. Customer, employee, investor, and society expectations are in constant flux and only organisations that adapt and evolve will get ahead and stay there.
Change is a certainty. Getting it right isn't. That's where we come in. Our experts guide leaders to create the best conditions for their people to thrive. Building optimal structures, processes and culture helps your people to succeed and your organisation to successfully achieve its mission.
Contact us
Let's talk about how we can help with your leadership and talent management challenges.
Get in touch
When organisation advisory can help
Our clients are as varied as the challenges they're facing. Regardless or size, sector, or specialism, they come to us when they need to:
Our organisation advisory services
DIRECTION AND ALIGNMENT
We help leaders to develop a meaningful and engaging picture of the future- one which serves to commit people to the cause whilst aligning strategies, structures and people processes. We can help with:
Purpose and vision
Leadership development
Organisation design and Target Operating Model (TOM)
RESILIENCE AND AGILITY
We understand the impact of change and work with organisations to create the conditions where people can thrive through transformational change. We can help with
Transformation and change management
Change strategy
Change capability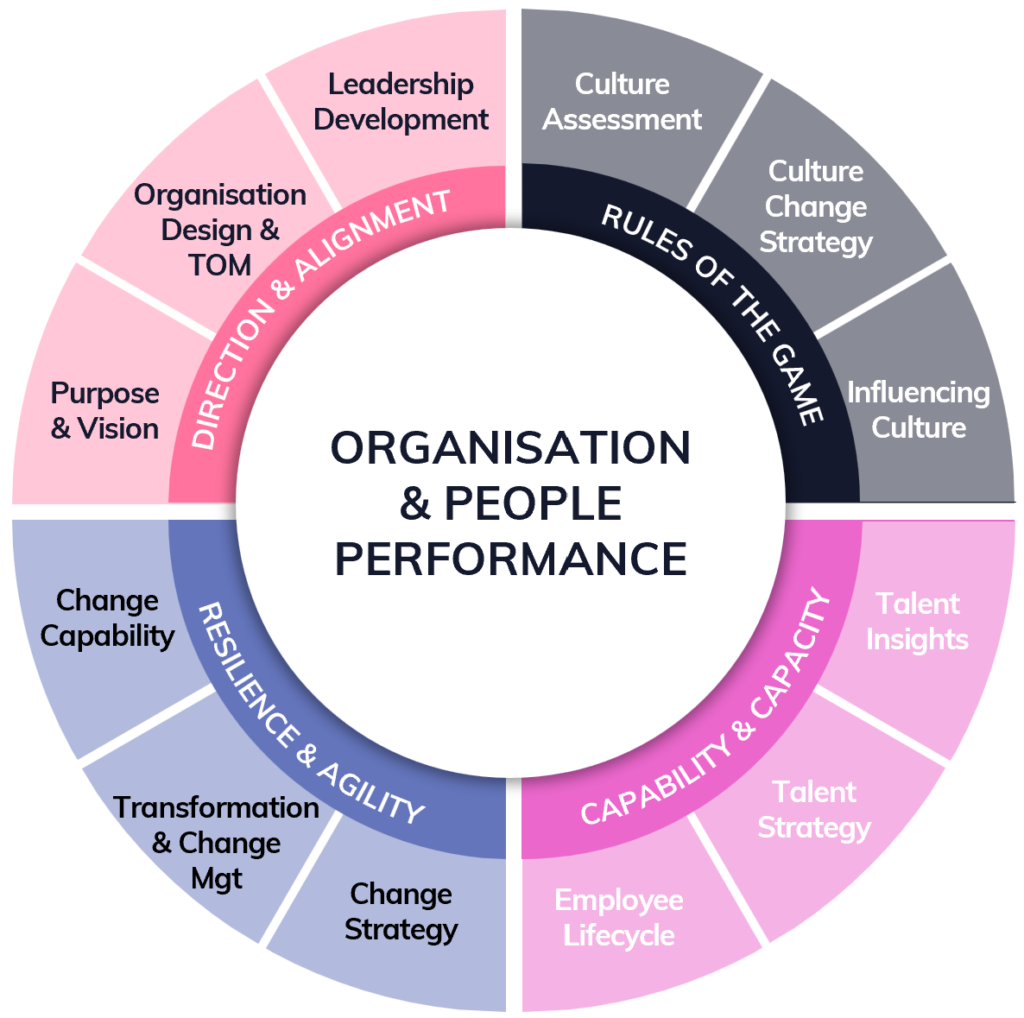 RULES OF THE GAME
We work with leaders to create the right performance culture that enables people to feel secure and have a sense of belonging in their roles. We identify and articulate  behavioural expectations which increase individual fulfilment and engagement. We can help with:
Culture assessment
Culture change strategy
Influencing culture
CAPABILITY And
CAPACITY
We work with leaders to develop talent strategies- strategies that are underpinned by data insights that identify what is really needed today and tomorrow. We build high-impact employee value propositions that help attract and retain the right people. We can help with:
Talent insights
Talent strategy
Employee lifecycle
Why choose us for organisation advisory?
WE RELENTLESSLY PURSUE YOUR PROBLEMS
We stand alongside you and treat your challenges as our challenges. We're hungry to make a difference and give our all to make you shine.
WE GET TO THE HEART OF THE MATTER
We dig beneath the surface of organisations to really understand the issue at hand. We then handpick a team of experts who co-design, develop and implement tailored solutions that power team and organisation performance.
WE're a safe pair of hands, but we'll never play it safe
Our team have decades of experience in solving people and organisation problems. This gives us the confidence to challenge when we need to – never settling for the quick fix if there's a better way or bigger problem to solve.
WE don't believe in "off the shelf"
We know every organisation is different. And that means every solution needs to be different too.  No quick fixes. No off-the-shelf plans. Not an identikit solution in sight. Just tailored solutions that work and make a difference.
Latest insights