Over the last 20 years we've supported the selection and development of partners at many leading professional service firms (PSFs). We've assessed over a thousand people for promotion to senior partner, partner or director roles within finance, legal services, management consultancy and general advisory businesses. We have designed, implemented and audited partner processes for many professional firms, including among the big four. What have we learnt?
We believe four core capabilities differentiate the most effective partners. These qualities are required in addition to the basics of technical capability and of course a solid business case for the appointment.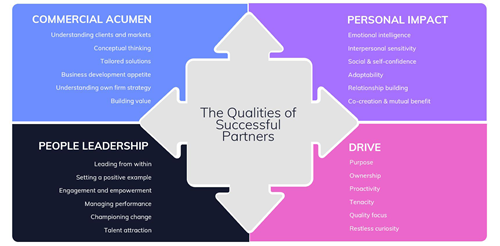 We've found these factors to be applicable across different organisations, sectors and even practice areas within firms. No two partners are alike, which is one of the attractions and challenges of leading professional service firms. Those providing advisory services to high net worth individuals will need to adopt a different interpersonal approach than that taken by personal injury partners specialising in serious claims. Consequently, the emphasis across and within each of these qualities varies depending on the individual context of each partner's work, their role within the firm, and the markets they serve. Nevertheless, all four qualities are required to some degree.
Whilst the succession of senior professionals into partnership is the lifeblood of the business model, very few firms appear to be good at developing these qualities in their rising stars. Similarly, a surprising number promote internally or invest in expensive lateral hires without fully testing them.
Failing to pay attention to broader capability leads to partner communities that consist of individual technical specialists isolated from the common brand, each leading in their own way and building allegiance to their own practices, rather than engaging the next generation within a single corporate identity. This confuses the market, inhibits cross-selling and provides conflicting messages about the desired behaviours within organisations.
This often comes to a head with the thorny issue of 'rainmakers' – big billers who command market respect and attention, but (in their client-centricity) often neglect internal policy and process. These people can represent uncomfortable role models. This is genuinely challenging ground for the leadership team – who understandably desire both revenue and alignment. No wonder leaders of PSFs are said to require "knee-pads and a Colt 45".
Another symptom of appointing based purely on technical capability and a business case is that it inhibits diversity. I recently heard of a female 'big four' partner-track candidate being told that what the firm is looking for is essentially "a good bloke". I'm certain this isn't in line with the organisation's policy, but it is indicative of the cultural challenge that derails some partnerships in their attempts to evolve in step with their markets, and with the expectations of society.
Taking a consistent and objective view of a partner's leadership capability provides an essential means to address these issues. These four qualities provide a valuable platform for long-term growth. Our experience also suggests that providing rigorous assessment, feedback and coaching to partner candidates before, during and after their promotion provides a powerful intervention for the individuals themselves, as well as providing good data for decision making panels.
Finally, in our experience the most progressive partnerships:
Engage, encourage, challenge and support potential partner candidates from early in their careers, smoothing the transition to Partnership, and
Recognise that achieving Partnership is not the end of the journey, but in fact a new beginning requiring further encouragement, support and development.
At NSCG, we specialise in assessing and developing senior teams and individuals. If you would like more information on how to choose the right leaders for your organisation, or if you are looking for input on the development of partners, please get in touch.