Fiona Endersby is a programme and organisation design expert. As an interim manager she leads organisation-wide transformation programmes introducing new ways of working and modernising the way the organisation functions. Here she shares her insights on the culture of remote working and how it can be measured.
We should all be proud of the way our organisations and colleagues rose to the challenge of maintaining essential services to residents and staff when Covid hit in 2020.  At the time I was working for a regulator (not housing) on an agile working programme. I watched as everyone picked up their laptops and carried on from home.  I felt a sense of personal achievement, knowing that staff had the kit they needed and some training to help them day to day.  We had even done all the workstation assessments to ensure colleagues could work from home safely.  However, the need to underpin the changes to technology and geography with a culture and leadership model soon became apparent.  I saw other organisations that had to respond rapidly to a dramatic change.  New technology was needed, training had to be provided, systems were changed and the whole approach to leadership and management was overhauled. Now that organisations have worked in this way for three years the whole landscape has changed.  Most employees want to work remotely for at least part of the week, but I have been challenged by some top level leaders to measure the impact and demonstrate value.  We all know people who would feel safer if more of the workforce was in eyesight most of the time.
Our current challenge is both to establish the culture of hybrid working and measure its impact over time.
What do we know?
Hybrid or agile working is not new, although it has been hugely accelerated.  In order to measure impact it is helpful to take account of pre-Covid data which was gathered from different sectors.
Research into hybrid working pre-Covid suggests that people who were working in a hybrid way for at least 1-2 days per week were the most engaged of all employees surveyed
Pre-Covid research on hybrid working showed increase in both engagement and productivity versus working in the office
McKinsey's study of hybrid working reported an improvement in organisations' productivity, customer satisfaction, employee engagement and equality, diversity and inclusion. (What's next for work, 2020).
Underrepresented groups report a strong preference for remote working. Research suggests that the work life balance may be easier to achieve, particularly for people with carer responsibilities.
What should our cultural model include?
It is essential that we set up a cultural model that addresses both engagement and productivity so that we can continue to improve performance.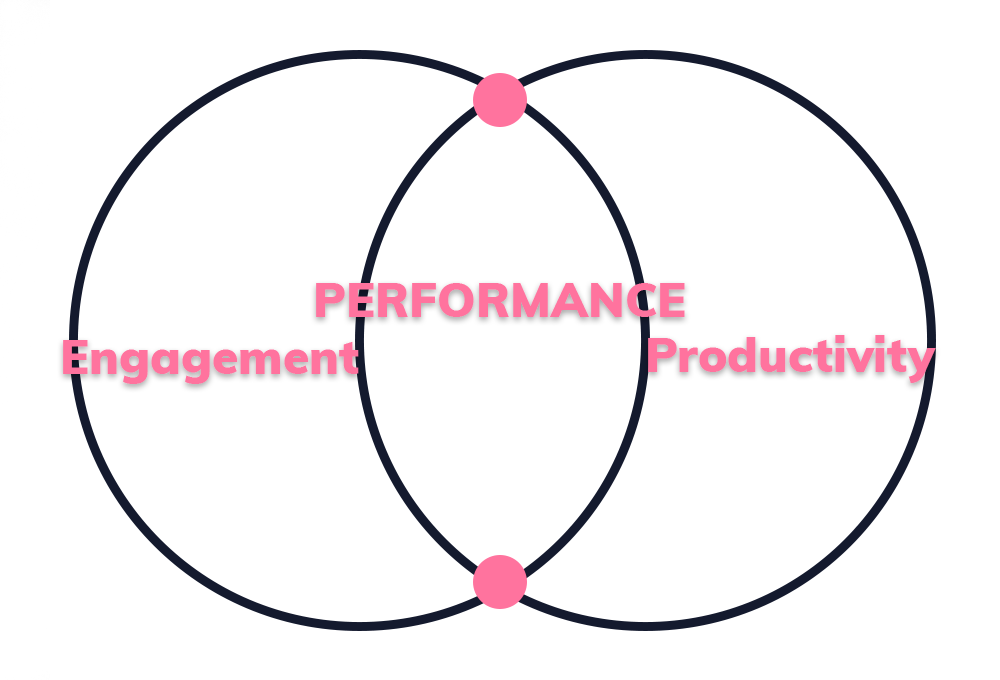 Engagement is a good proxy for employee experience.  Productivity covers the measures that applied before Covid as well as since 2020.
We should use comparative data from 2019-2022 to measure impact of hybrid working on overall performance.
Hybrid working culture is made up of a number of elements: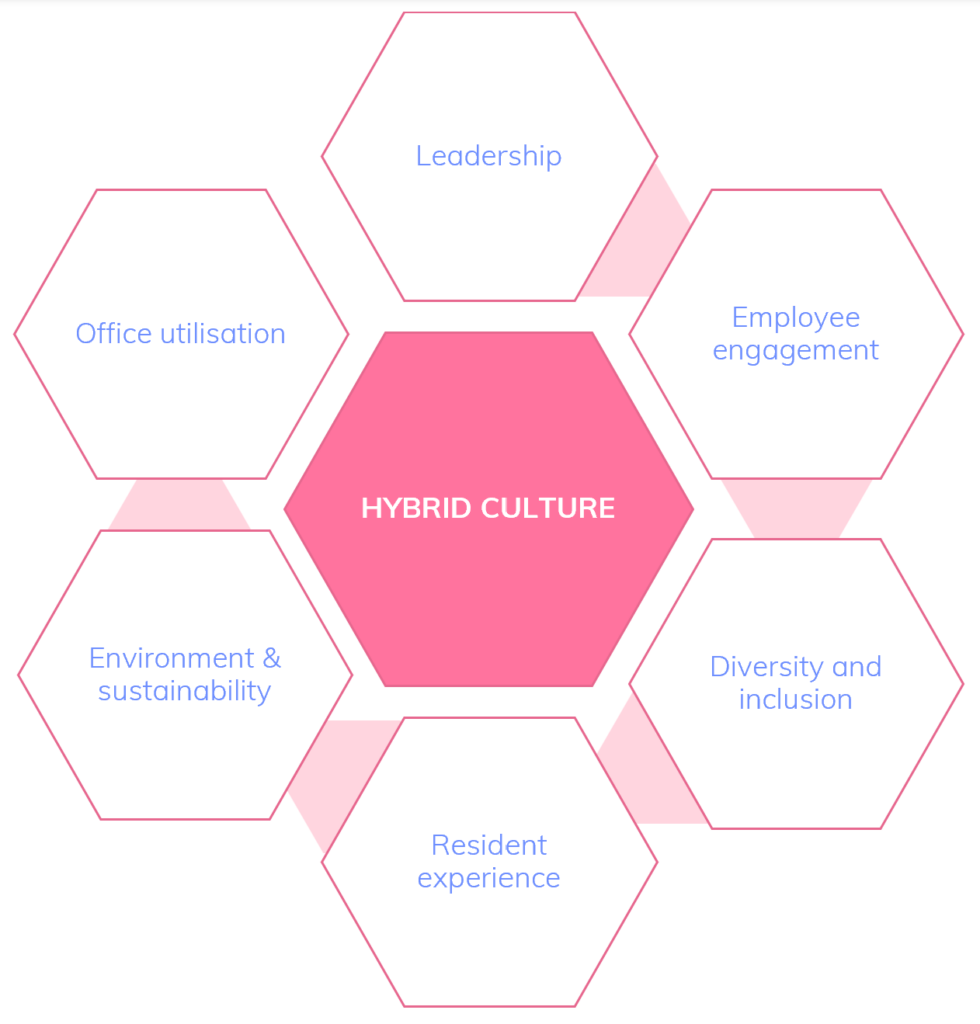 All require measures. Where possible the 2019 benchmark should be taken as it provides helpful comparative information.  Examples of impact measures and outcomes for these cultural elements include:
Impact measures and outcomes:
Leadership effectiveness measures

Outcomes

Communication-impact of messages
Leadership direction
Setting expectations
Observing performance
Removing barriers
Seeking feedback opportunities
Coaching for development
Leadership development
Performance management
Personal development planning
Objective setting
Employee engagement measures

Outcomes

Impact of hybrid working on recruitment and retention
Health and wellbeing
Mental health
Onboarding and integration of staff
Organisational trust
Commitment to co-workers
Capabilities and confidence to the job
Widen recruitment pool
Train mangers in understanding mental health for their staff
Diversity and inclusion measures

Outcomes

Impact of hybrid working on recruitment and retention
Access to a more diverse work pool
Ensure access across the range of roles
Measuring performance against these elements will help to identify the impact on productivity and employee engagement.
Evaluation of productivity and engagement should use existing tools where possible.  This makes it easier to compare data and reduces the onus on staff to produce additional reports.
Evaluation:
Engagement evaluation

Staff survey
Exit interviews
Recruitment data
EDI recruitment and deployment data
Onboarding feedback
Productivity evaluation

Apply measure from pre-Covid and conduct comparison
Create a study with a sample of staff who work full time in the office. Compare engagement and productivity over time against hybrid workers
Office usage including collaboration
Balance between reduction in commuter time and burn our from over working at home
STAR survey questions to assess customer experience of hybrid working arrangements
The leadership challenge
It is important to identify any negatives and performance challenges.  Managing teams that are required to work permanently in the office demands nuanced skills from managers and leaders to ensure that they don't feel like the poor relation, with additional daily costs to cover including travel and food.  Equally, some remote workers report feeling that they miss out on informal conversations and can be overlooked for development opportunities compared to staff who are more visible day to day.
Developing a hybrid working culture will take time and needs to involve everyone from the board onwards.  Challenges to leading a hybrid team include:
Inefficient teamwork and collaboration. We need to provide a level playing field for remote an office workers.  We must also be clear about when and why we want remote staff to work from the office.
Preserving compliance remotely. It has become even more important to maintain systems and guard against cyber risk.  Training in this area is essential.
Maintaining work life balance. There is a risk of overworking (although I have met some managers who suspect the opposite). Overworking is a sign of inefficiency. Managers are responsible for making sure that staff take breaks and log off.
We need to support our leaders both to implement the modern workplace culture and to monitor its impact in all its forms.